The moment your gynae confirmed your pregnancy reports, you just can't hold on to your excitement to share the baby arrival announcement news to your partner and the rest of your family. We're sure that you must have already thought about several pregnancy announcement ideas, but you're still unable to figure out which one would hit the spot. Then you check the calendar and see that the New Year's round the corner, and think New Year is the apt time to make the pregnancy announcement. But how?
Read this engaging article and find out some of the best ideas for a pregnancy announcement, this New Year:
Take Help Of The Social Media
Use Instagram, Facebook, Twitter and some of the other of your favourite social networking sites to make your pregnancy announcement.
Maybe both you and your partner could hold a chalkboard, pose and say, "Our New Year's resolution is to become amazing parents".
Or, may be both of you could pose with an ultrasound photo of the cute little life growing inside you and finish the photo by writing below, "We hope the next year will be as full of joy for you as it will be for us". (In this case, you can very well ask your photographer to put the entire focus on the scan image) and make your and your partner's photo blurred).
Or you can pose both of your photo together showing that you're raising a toast in the name of your little one inside and write on your walls We're "expecting" – to a great year".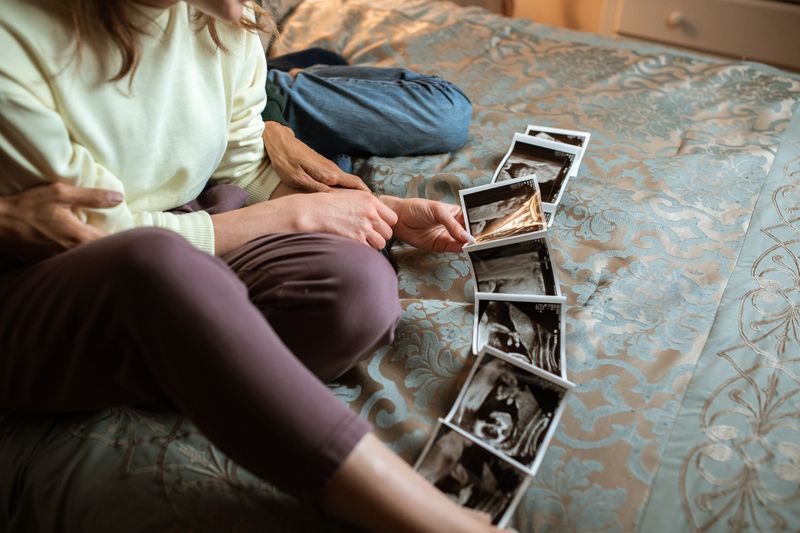 Change The Label Of Champagne or Wine Bottle
It's after all the New Years' time, you must've planned and prepared some delicious food and drinks for your partner and the rest of your family. Well! Champagne or Wine and New Year go hand in hand. But when you're expecting, champagne/ wine or any other alcohol wouldn't be a very good idea. However, you can always be creative with the label of the bottle and make this new year a perfect opportunity to surprise your loved ones and your partner with your pregnancy announcement.
Let Your Pet Help You With Your Pregnancy Announcement
In fact, that's a really fun idea. You've already checked with your partner about his time to return home from his work on New Year's Day. So now, you prepare your dog, Blondy, with a label written on his collar, "I'm going to be the elder brother". Make your dog wait outside the main door with that label to greet your partner and surprise the others in your family.
How 'bout Pregnancy Announcement Shirts?
We know that this the time when you must be wondering what to wear. In fact, those maternity robes and empire waist dresses, (like the flowy or maxi dresses, high-waist flowy skirts and lose shirt dresses) are already on your mind. You can also get those extra-large size T-Shirts you'd have mistakenly bought, a few years' back and have those shorts printed like this: "Eating for two" or "The turkey isn't the only thing in the oven," with a pair of baby footprints embellished underneath.
The New Years Greetings Cards Can Do The Magic
Make a simple pregnancy announcement message like this "New Year, New Baby on the New Year's Greetings Card and play around with some custom-made themes. Once you're done, you can either simply place that card in the middle of the dinner table and see who sees it first or put the card on the side table of your bed so that, your partner's eyes fall upon it immediately after he wakes up in the morning.
Get An Extra Small But High-chair On The Dinner Table
While you set the table for dinner, ensure that you get an extra small chair or high baby chair. Write a sweet message about your pregnancy on a card and put it on that chair. At dinner time, let someone see it and ask your about it, and you can tell them that a new family member expected very soon
Talk About Cord Blood Banking
As, while planning some of the wonderful pregnancy announcement ideas, a mention of cord blood banking is also a unique way to let your partner and the dear ones in the family know that, you're expecting. And by cord blood banking, you're not just thinking of the health of the baby, who's on the way, but you're also thinking about the healthy future of the rest of the family.
Becoming a mother is a wonderful emotion. And sharing the news, is sharing of this emotion with the ones you love.
We hope these pregnancy announcement ideas on New Year works well for you, your partner and your family.
Happy New Year to you and your family!