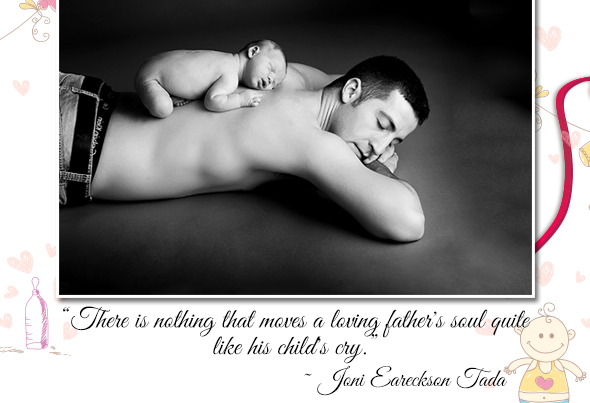 As Kent Burner aptly puts it, "It is much easier to become a father than to be one." Anyone can become a father but it takes someone special to be a Dad. Carrying a child in her womb for nine months, a mother develops a deep bond with her child much before he is born. But what about the father? A mother-child relationship starts much before birth, with the umbilical cord tying the two together. But then, so does the father's bond.
Research suggests that fathers experience hormonal and biological changes that prepare them for fatherhood.  Studies have demonstrated a decrease in testosterone in fathers-to-be, along with an increase in cortisol and prolactin. The latter two are usually associated with pregnant women and are known to rise about three weeks before delivery. This means that there is real biological basis of the experience of fatherhood. Here's a look at some more things you can do to build the bond.
What Research Says about the Father-Baby Bond
Men tend to have a drive to protect, which is why they consider the well-being of their family as their responsibility, be it financial security, physical safety or health. Due these protective instincts, fathers will consider it their responsibility to protect their child, and to forge a bond of love, they need to feel an emotional connect with the infant. The process of bonding starts right in the womb. Touching your partner's belly and massaging it helps to form a physical connect. Studies show that the foetus starts to acknowledge sounds in the womb. So, talk to your baby, listen to music together or just relax with your partner, using physical touch with the baby bump as your connection.
Did you know that research actually suggests that fathers who are present during the time of birth and hold their newborn soon after delivery experience similar feelings of bonding and attachment as mothers do in the first few weeks post delivery?
It is only natural for expectant parents to feel some anxiety related to parenthood. The best way to bring peace of mind is to celebrate the impending fatherhood. Of course, it always helps to do something constructive to relieve anxiety. So, consider spending quality time with your partner, bonding with the growing foetus. In addition, secure your own and your to-be-born's future with some good insurance policies. Did you know that one of the best means to insure health is cord blood banking? There are over a hundred ailments that can be effectively cured with umbilical cord blood. So, gather all the information well in time and book your stem cell blood bank well before the delivery date.
This father's day, begin the celebration of your fatherhood by being constructive about your little one's future.