Pregnancy is a time to take utmost care of your mental as well as physical health. Increased sensitivity and changes going on inside your body can make you feel a bit gross at this stage.
COVID-19 outbreak has already threatened the humanity and this is the time we all need to be careful with our health and other precautions that can help us from the prevention of this disease spread.
Pregnant women were placed in vulnerable category. But evidence till date shows they are not more likely to contract COVID-19 than general people[1].
Although, pregnancy alters the immune system so that the body may be susceptible to common viral infections and develop severe symptoms particularly towards the end of pregnancy.[1] This condition is expected to be applicable with COVID-19 as well.[1]
Prevention is better than cure!
Pregnant women should take care of their health as well as can boost their immunity to protect themselves from COVID-19.
How can you boost your immunity during pregnancy?
You must already be following general recommendation for staying healthy in this phase. But it is very important to stick to the basic.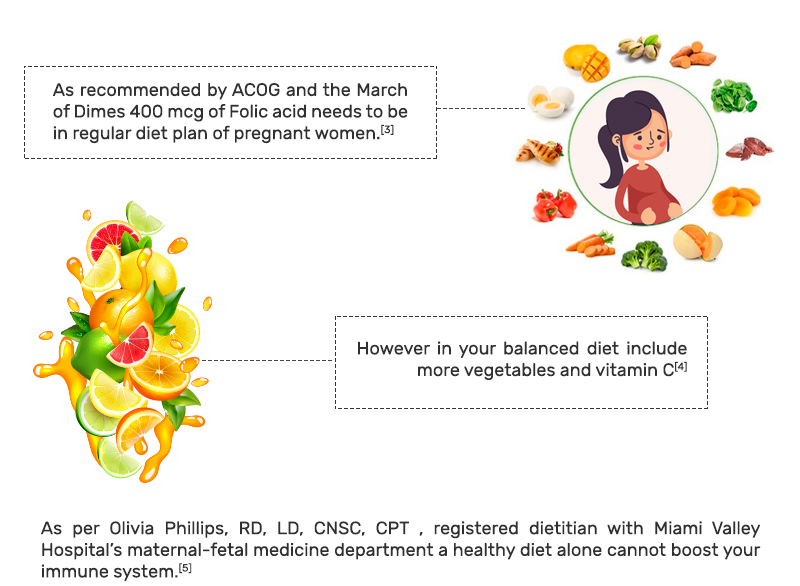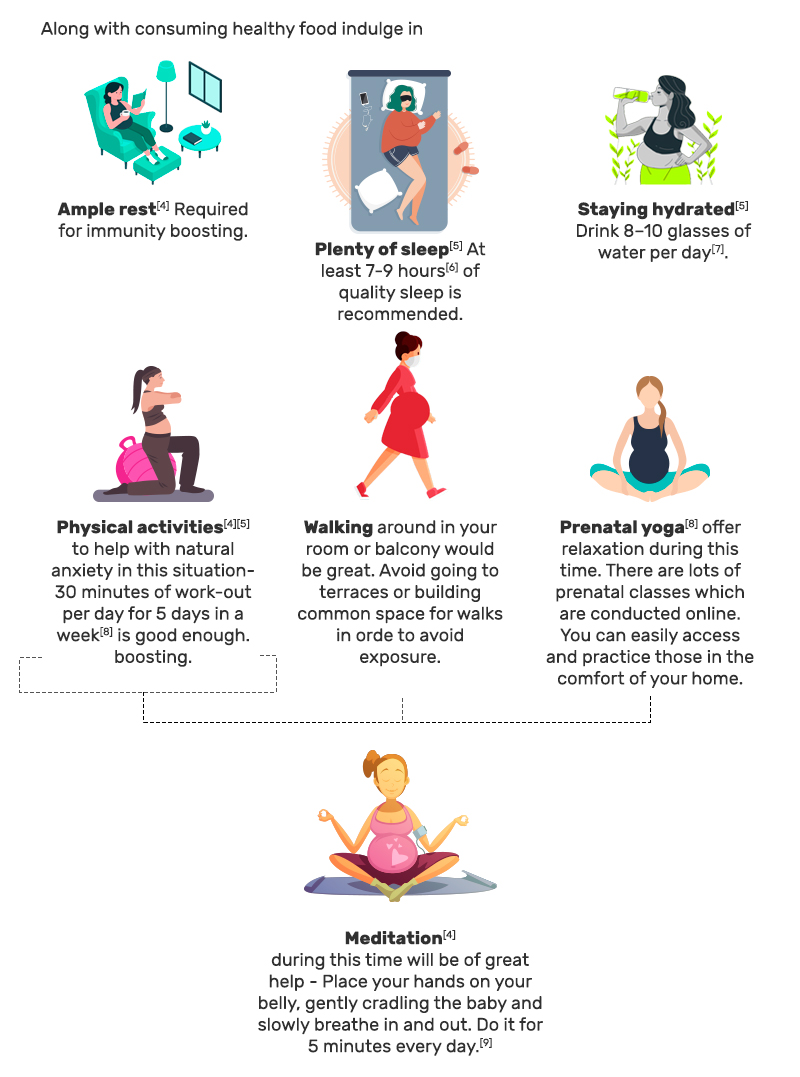 Ministry of AYUSH[10]  has recommended a few general measures for boosting Immunity. Although, none of these measures are known to influence pregnancy, however, it is best to consult your doctors before implementing.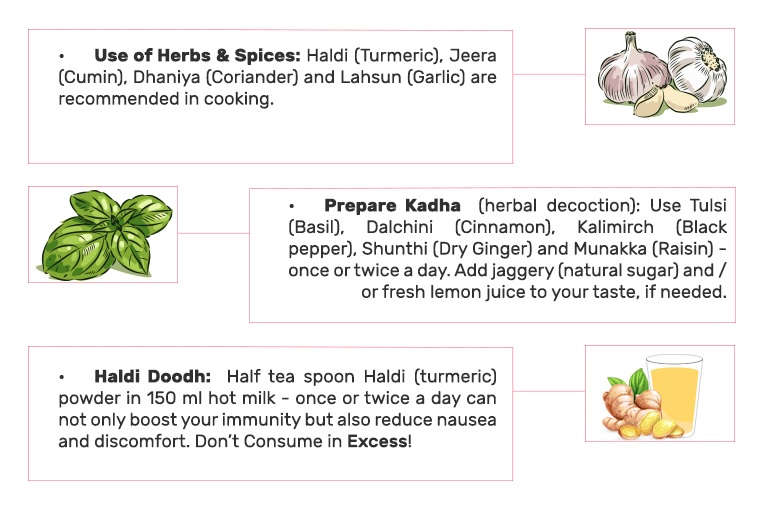 In addition to the physical health, It is quite natural that many pregnant women are experiencing increased stress and anxiety[11] in these circumstances due to COVID-19. But to be healthy both physically and mentally not only consumption of balanced food is needed but also avoiding any kind of mental stress is necessary.
As per Phillips "When you eat better, you'll feel better, and that alone will reduce your stress." [5]
Therefore, maintaining the cycle is very important to boost your immunity
Healthy diet plans, practicing regular exercises during pregnancy will not only help you boost your immunity but also boost your mood too.
Hence,
Eat healthy! Sleep well! Exercise regularly! Don't take stress!
Boost your immunity!
*Consult your doctor before implementing any practice.
References-
Coronavirus (COVID-19) Infection in Pregnancy, Information for healthcare professionals, Version 8: Published Friday 17 April 2020, Royal College of Obstetricians & Gynaecologists website, https://www.rcog.org.uk/globalassets/documents/guidelines/2020-04-17-coronavirus-covid-19-infection-in-pregnancy.pdf; Accessed 6 April, 2020.
Pregnancy In The Time Of Coronavirus: What To Know And Ask, Forbes website, https://www.forbes.com/sites/tarahaelle/2020/03/20/pregnancy-in-the-time-of-coronavirus-what-to-know-and-ask/#68ed6f6d213b; Accessed 6 April, 2020.
Pregnancy: Nutrition, Cleveland Clinic website, https://my.clevelandclinic.org/health/articles/12593-pregnancy-nutrition; Accessed 6 April, 2020.
What Pregnant Women Should Know About COVID-19, Health Matters website, https://healthmatters.nyp.org/what-pregnant-women-should-know-about-covid-19/; Accessed 6 April, 2020.
Healthy Advice About Nutrition, Pregnancy, And COVID-19, Premier Health website, https://www.premierhealth.com/your-health/articles/healthnow/healthy-advice-about-nutrition-pregnancy-and-covid-19; Accessed 6 April, 2020.
4 Ways to Help Strengthen Your Immunity During Pregnancy, vitaMedMD website, https://www.vitamedmdrx.com/resources/articles/archive/pregnancy/4-ways-to-help-strengthen-your-immunity-during-pregnancy; Accessed 6 April, 2020.
Kristen S. Montgomery, PhD, RN. An Update on Water Needs during Pregnancy and Beyond. Nutrition Column. The Journal of Perinatal Education. Vol. 11, No. 3, 2002.
Exercise During Pregnancy, The American College of Obstetricians and Gynecologists website, https://www.acog.org/patient-resources/faqs/pregnancy/exercise-during-pregnancy; Accessed 6 April, 2020.
Meditation Techniques for Pregnancy and Labor, parents website, https://www.parents.com/pregnancy/my-life/emotions/10-daily-mom-to-be-meditations/; Accessed 6 April, 2020.
Ministry of AYUSH – Ayurveda's immunity boosting measures for self care during COVID 19 crisis
Novel Coronavirus 2019 (COVID-19), The American College of Obstetricians and Gynecologists website, https://www.acog.org/clinical/clinical-guidance/practice-advisory/articles/2020/03/novel-coronavirus-2019; Accessed 6 April, 2020.