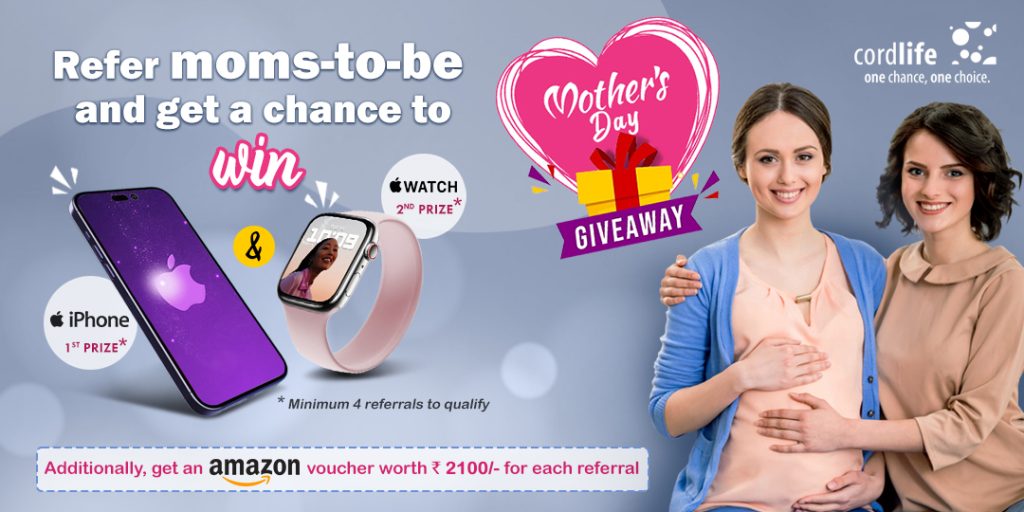 This Mother's Day, gift a new mommy-to-be and her child the assurance of a healthy life!

Refer them to enrol for cord blood banking with Cordlife and stand a chance to win an iPhone 14 or an Apple Watch!

The more mommies you get to sign up with us, the more your chances to win!

Hurry up! Secure lives & get your iPhone delivered today!

*Terms & Conditions applied
Terms and Conditions
1. Offer valid for all the enrolled clients (old and New).
2. Offer applicable on successful sample storage/preservation of the referrals.
3.      To qualify in this contest one must give a minimum of 4 referrals.
4. Referrals need to enrol between the offer period i.e., 10th May – 30th May.
5. Prize will be based on the maximum number of successful sign-ups.
6. Offer not valid for Cordlife employee or their family.
7. Winner numbers will be flashed on our official website in the second week of June.
8. In case of a tie a lucky draw will be conducted.